I got home from camping, after a five hour slog through bank holiday traffic, to some lovely, flattering news - I got joint second place in this week's
fma_fic_contest
. I have a banner and everything! I like the font and the way they chose the goofy photo of HEARTBREAK AND WOE for the illo.



As if that's not enough, along with all this week's other entrants, I also get a frighteningly cute chibi Ed banner for taking part.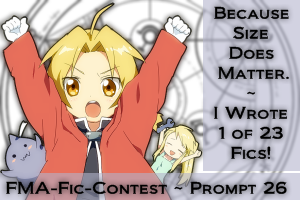 I think my entire flist is on fma_fic_contest, but just in case anyone isn't, I will do some pimping. I shared the second place spot on the podium with
tiamatschild
and their lovely fic
"Chestnuts"
, a really charming vignette in which Mei Chan harasses/looks after Scar. Aww! The winner list is
here
, and you should definitely check out the
scary winning entry
from
colonel_bastard
. But also! There were actually twenty-three entries, most of them ace, and all of them very short, so you could and should read them all in a single coffee break. They are
here
.